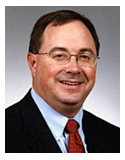 Areas of Practce
Real Estate Law
Commercial Law
Creditor's Rights
Bankruptcy
Estate Planning

J. Thomas Dubois received his Associate of Science degree, Summa Cum Laude, from Columbia State Community College, his Bachelor of Science degree, Magna Cum Laude, from Middle Tennessee State University and his law degree, with Honors, from the University of Tennessee. After graduating from law school in 1989, Mr. DuBois practiced law with this firm for two years. In 1991, Mr. DuBois began military service, on active duty as a military attorney in the U.S. Army Judge Advocate General Corps. As a U.S. Army JAG attorney, Mr. DuBois served as a military prosecutor and a defense attorney in Louisiana, Texas and Italy until 1996. As the U.S. Army Senior Defense Counsel in Italy from 1994 to 1996, Mr. DuBois was responsible for representing soldiers in Italy, Turkey, and Germany.
Mr. DuBois is involved in most areas of the firm's practice, with an emphasis on real estate, commercial, creditor's rights and bankruptcy, and estate planning. He is a member of the Maury County and Tennessee Bar Associations. Since 1998, Mr. DuBois has served as City Judge for the City of Columbia. Since 2002, Mr. DuBois has also served as State Representative for the 64th House District in the Tennessee General Assembly, where he serves on the Health and Human Resources Committee and the State and Local Government Committee. In 2004, Mr. DuBois was named Legislator of the year by the Tennessee Development District Association and is a recipient of the Boy Scouts Silver Beaver Award. Mr. DuBois is also actively involved in the Boy Scouts of America, the Columbia Rotary Club, and St. Peter's Episcopal Church.
He and his wife, Anita, reside in Columbia with their three children.